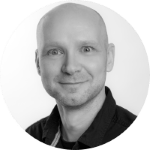 My name is Loek van den Ouweland, software engineer and trainer with 22 years of experience. I created websites and apps for a large number of companies in The Netherlands, Belgium and Germany. Currently I work for Microsoft Berlin, creating To-do for Windows.

I consider exchanging knowledge a vital part of a healthy work culture so I speak at conferences, publish on my blog and teach Microsoft professionals how to build Universal Windows Apps with XAML and C#. Also as co-founder of www.extensionmethod.net, the largest online database for extension methods, it's my goal to share know-how.
An excellent user experience is always in the center of my work because I'm convinced that intuitive and easy-to-use apps are used more often and will be the ones that survive in the market.
I work for great customers like: